THE AUTUMN COLLECTION RECORDED VERY POSITIVE RESULTS:
AN EXCELLENT COLLECTION AND A GROWING NUMBER OF MARKET OUTLETS
The autumn collection showed very positive results across all grains and is expected to reach around 610,000 tonnes overall. This is a satisfying result for the Euralis cooperative and farmers, which will lead to diversified crops and a wider variety of market outlets.
Euralis is delighted for its producers
The 2021 autumn collection is very encouraging (550,000 tonnes of maize, 25,000 tonnes of soybeans, 30,000 tonnes of sunflower and around 10,000 tonnes of sorghum). Some farmers observed record harvests, and yields were excellent overall (a minority of our members saw average yields below 10 tonnes/hectare).
At Euralis, the teams have been mobilised and the silos and drying machines have been working non-stop at full speed.
Goods orders have increased as more boats are shipping products abroad. This also explains why there has been such intense activity beyond outstanding yields.
The reasons behind the successful collection
These very positive results are particularly down to the favourable weather conditions.
The sowing season in April and May was marked by regular rainfall (neither too much nor too little), which is propitious to seedling emergence and the weather remained dry throughout the collection period. "This year was exceptional: not a single drop of rain fell between the 5th and 30th of October. This had a positive impact on humidity levels: with regard to maize, humidity stands at around 25-26% although given the summer crop conditions, we had estimated higher average levels", Franck Camet-Lassalle, Euralis Key Account Manager, explains.
Humidity levels impact drying costs. "While regulated gas prices have increased by 60%, we have only raised our drying prices by 13%", Franck Camet-Lassalle adds. "Our purchase heading strategy has enabled us to avoid fully passing on these additional costs to our prices. In addition, we are monitoring gas consumption at all Euralis drying sites via an energy performance index. This enables us to optimise the performance of each dryer by regulating the temperature and extraction rate. This continuous improvement plan helps us regulate our consumption".
More good news for farmers: overall prices are up in global grain and oilseed markets as well as in Euralis's market outlets.
This signals a return to profitability for our members' maize, soybean and sunflower production.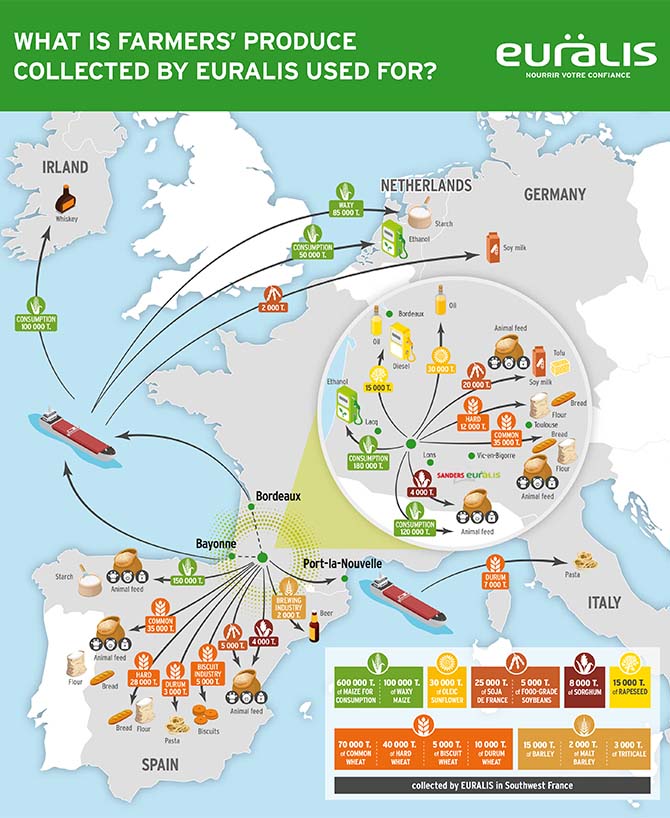 More diverse yields and a growing number of market outlets
Euralis has a long history of growing maize. Over the years, the Group has chosen to diversify its activities by helping member farmers transition towards other crops (small grains, soybeans, sunflower, etc.) and develop value-added sectors (waxy maize, food-grade soybeans, etc.). This diversity naturally helps us increase our market outlets both in France and across Europe.